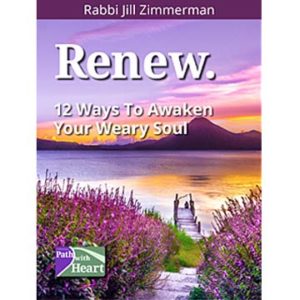 Thank you for your e-book purchase.
Your contribution will make a difference for people in need.
Renew.
12 Ways to Awaken Your Weary Soul
By Rabbi Jill Zimmerman
NOTE: Check your email for confirmation with download link. Please download and save file now. Your link expires in 10 days and there is a limit of 10 downloads.
Add any additional call to action here?
Connect with Rabbi Jill:
TO DO:
Edit Copy

Update Image

Update Download Link