Frequently Asked Questions
We'll do our best to address any questions or concerns you may have below. Did we miss something? Email us your question. We'll reply with an answer and may add it to this list.
How do I attend a live Hineni session?
All live sessions are currently hosted via Zoom, a powerful and easy to use live streaming video application for your desktop computer or mobile device. Prior to any webinar for which you have registered, you will receive a unique link for the call at the email address you used to register. (Please be sure to confirm your membership and subscription for any courses you plan to attend.)
You can join the webinar from your personal computer, or mobile device, using the link provided for that call. To join a session by phone, dial the number you are given and enter the Meeting ID provided. International numbers available here.
Zoom Webinar Tips:
Click the webinar link you are sent to open the Zoom app 5-10 minutes prior to the call and test your audio/video. Click the Chat button below the video window to open the discussion pane. Click a participant's name to send a private chat message, or be sure to select "Everyone" to chat publicly.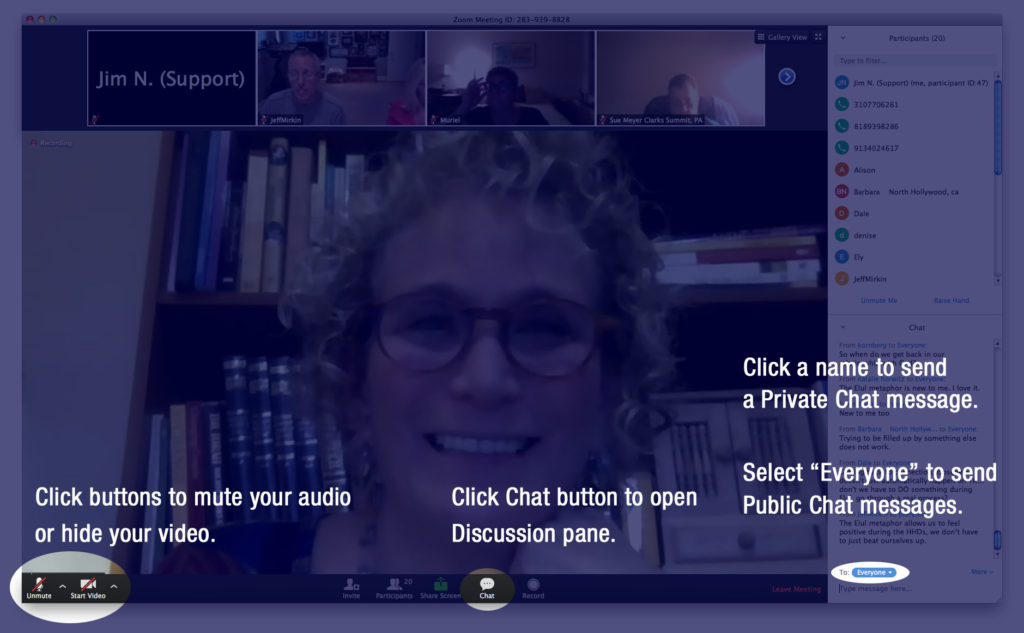 Trouble accessing recordings?
All live webinar sessions are recorded and media files are stored on Dropbox. you do not need to download the Dropbox app. Links to recordings will be sent to you by email after each session. All video and audio files are also archived for future reference on your private course page(s).
Problems streaming? 1. Please allow time for video or audio to buffer, 2. click Pause then Play again or, 3. try reloading page. If problems persist, or you only see the first 15 minutes of video, please download the media from the Dropbox links provided to your computer for watching offline.
If you are not receiving the emails:
Please check your spam folder. The most common reason for subscription emails being overlooked is that your email client software or service provider has filtered the message as spam. iCloud Users: Check your "Junk" tab.  Gmail Users: Check your "Promotions" tab. Gmail will often deliver newsletters to the "Promotions" tab. Add a star to these messages to ensure future emails are delivered directly to your Primary tab. For help, watch this video about managing Gmail tabs.
Please Note: By default, your Hineni account email address is the same one associated with the PayPal account used for payment. If you paid on this site using Stripe, it is the email you entered upon registration. Visit review Your Account to confirm or change your email address.
What if I'm having a technical issue?
If you're experiencing any technical issues with your account or accessing content on this site, please reach out to our tech support guru via email at support@ravjill.com.
Where can I find my membership account information?
Click the My Account link atop any page on this site to:
View All Current Courses/Subscriptions
Review Your Purchase History
Update Your Name
Reset Your Password
Cancel Your Subscription(s)
Can I share my membership log-in with others?
No, multiple log-ins to the same account are not possible. Please refer to the Path With Heart Terms and Conditions for complete details about Membership Confidentiality, Privacy and our Refund Policy.
Refund Policy
Let us know if the Hineni Community membership is no longer working for you. We will cancel your subscription or if you paid with PayPal, you can cancel with the instructions below. If you have a yearly membership, we will give you a pro-rated refund.
How do I cancel my membership?
To cancel your membership through PayPal, please use the button below to cancel.
Not Logged In.
To cancel your membership through Stripe, please email support at support@ravjill.com or Rabbi Jill at rabbijillz@gmail.com.
Any Questions?
For assistance with your account please email us directly. Feel free to ask any questions about this community and we'll reply ASAP with an answer.
Save
Save
Save
Save